BOOK ONLINE FOR VALUABLE DISCOUNTS!
Use Promo Code: Celebration

Celebration II at Lake of the Ozarks
Enjoy a tour of the Bagnell Dam at the Lake of the Ozarks.
An informative narrated cruise that gives the history of the Bagnell Dam, the Lake, and the attractions along the shoreline.
A yachting experience like no other, where you are served by our professional, uniformed crew.
Celebration Cruises is ADA accessible.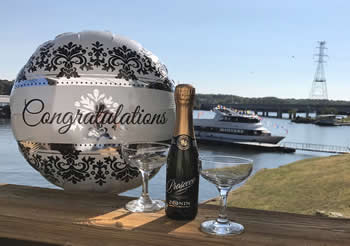 Birthday & Anniversary Packages Now Available!

Celebrate your special day with one of our birthday or anniversary packages. Choose from
Anniversary Package: Includes a bottle of Sparkling White Wine & Congratulations Mylar Baloon
$15.00
Birthday Package: Happy Birthday Cupcake & Mylar Balloon
$15.00
Purchase either package when you book your cruise tickets or by contacting our crew at 573-480-3212 or by email to info@cruiselakeoftheozarks.com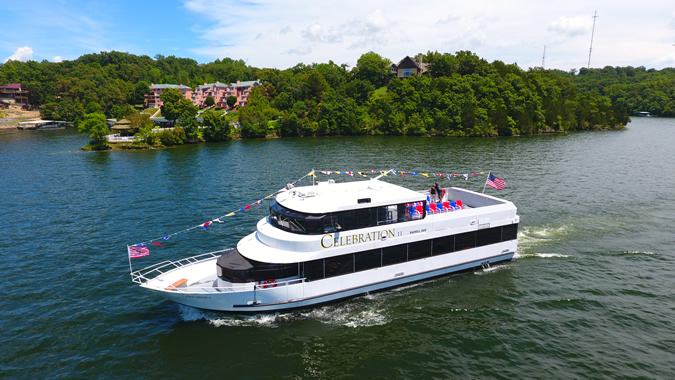 Season Passes Now Available

This package includes the attendance to unlimited tours of the following types: Lunchtime Narrated Lake Tour, Evening Lake Cruise, Candle Light Dinner Cruise, Narrated Lake Tour. Only one person per booking is allowed. The visits must be made within one year from the date of purchase of the package.
$100 per person
Not good on special cruises.
Click on the button below and create an account to purchase a season pass for 2018.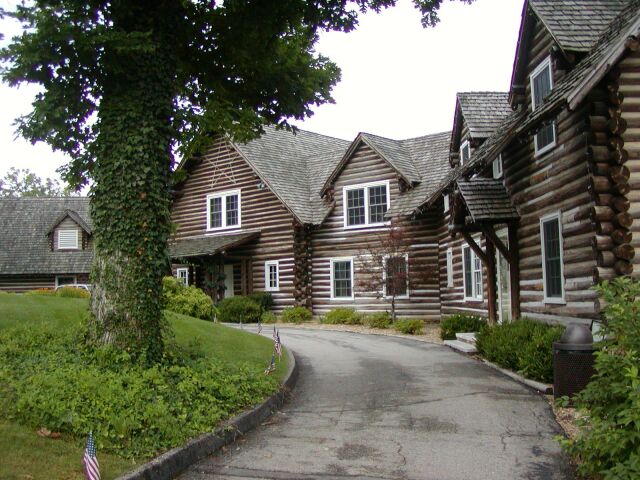 Willmore Lodge
Willmore Lodge is an historic lodge built by Union Electric as an administrative and entertainment center at the time of Bagnell Dam's construction. Now open to the public with a museum showcasing the construction of Bagnell Dam. Please contact us if your group is interested in a tour. Call us at (573) 286-2009 or email us at info@cruiselakeoftheozarks.com
Upcoming Special Cruise Events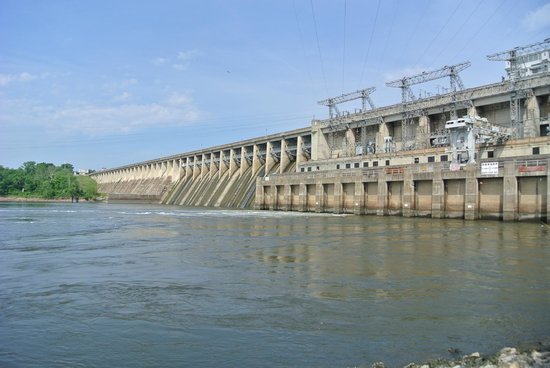 Lake of the Ozarks History and Nature Cruise
Come and enjoy an afternoon aboard the Celebration II.  Naturalists will be on hand to give a history on Bagnell Dam and the Lake of the Ozarks as well as to discuss native species both in and around the lake area.
SAVE THE DATE:  SEPTEMBER  23, 2017
A book signing by the authors of A People's History of the Lake of the Ozarks, Dan William Peek and Kent Van Landuyt. They will be giving a special history presentation and have books to sell and sign.
Adults: $25
Children 3-9:  $12
Under 3: FREE
Board 12:30pm
Depart 1:00pm
Return 2:30pm
We Have Daily Cruises for Groups of 15 or More!
Call for details.