BOOK ONLINE FOR VALUABLE DISCOUNTS!
Use Promo Code: Celebration

Celebration Cruises at Lake of the Ozarks … The Lake's LARGEST Cruise Boat
Come aboard Celebration for a unique and enjoyable cruise while viewing the beautiful homes and scenery.  You will enjoy a yachting experience and atmosphere with unsurpassed service from the professional crew.
Celebration and the crew invite you aboard for your next function, whether it's a Holiday Christmas party, Business Meeting or Social.
We offer an exceptional venue for family events: Birthdays, Anniversary's, Reunions, Graduations or Wedding Events
Climate controlled for 4 season comfort, easy access, parking and a central location.
Celebration cruises rain and shine. With over 100 seats in climate controlled comfort weather does not prevent you from having a fantastic cruise experience. In the event of dangerous weather you would be notified and offered to rebook or a refund.
Celebration Cruises is ADA accessible.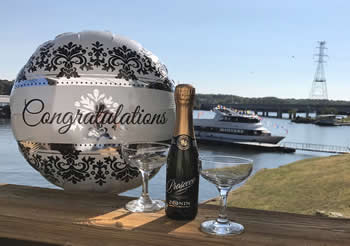 Birthday & Anniversary Packages Now Available!

Celebrate your special day with one of our birthday or anniversary packages. Choose from
Anniversary Package: Includes a bottle of Sparkling White Wine & Congratulations Mylar Baloon
$15.00
Birthday Package: Happy Birthday Cupcake & Mylar Balloon
$15.00
Purchase either package when you book your cruise tickets or by contacting our crew at 573-480-3212 or by email to info@cruiselakeoftheozarks.com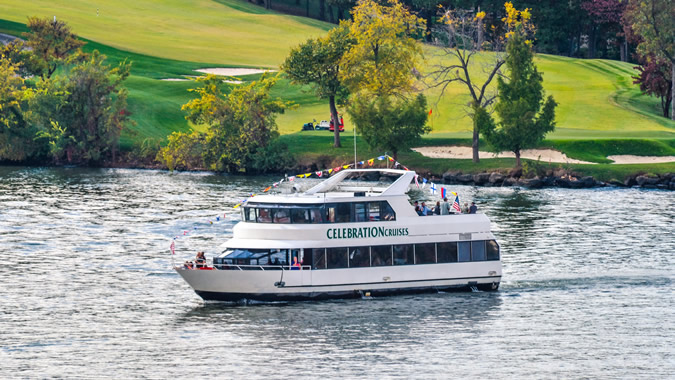 Season Passes Now Available

This package includes the attendance to unlimited tours of the following types: Lunchtime Narrated Lake Tour, Evening Lake Cruise, Candle Light Dinner Cruise, Narrated Lake Tour. Only one person per booking is allowed. The visits must be made within one year from the date of purchase of the package.
Indiviual Season Passes $100.00 per person.
Not good on special cruises.
Click on the button below and create an account to purchase a season pass for 2018.
Upcoming Special Cruise Events