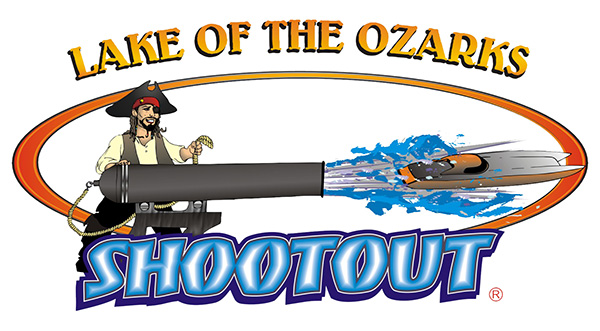 NOW BOOKING SHOOTOUT CRUISES!
Saturday, August 25th & Sunday, August 26th

Join Celebration Cruises, in air conditioned comfort, as you watch the race from our big screen. New this year, our 49 passenger, water shuttle, for fast boarding from Captain Ron's. Water shuttle will run continuously throughout the race. Best view of the shootout, with close up action as the boats race down the lake with their safety helicopter following.
$55.00 per person.
Boarding begins at 10:00 AM – 5:00 PM
VIP packages Available: $500.00 for four. Includes private table on rail or window, on the race course side of our yacht, lunch, and a bottle of wine.
BOOK ONLINE FOR VALUABLE DISCOUNTS!
Use Promo Code: Celebration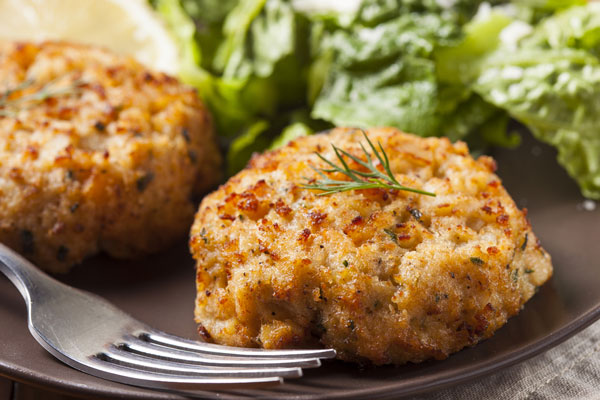 Now Serving
Enjoy Chesapeake Crab Cakes for lunch and dinner!
For our Candlelit cruise, we now serve Surf and Turf Cold Water Lobster Tail and Ribeye Steak. 
Celebration Cruises at Lake of the Ozarks … The Lake's LARGEST Cruise Boat
Come aboard our yacht, located at the Grand Glaize bridge, in Osage Beach, for a unique and enjoyable cruise while viewing the beautiful homes and scenery, on Lake of the Ozarks. You will enjoy a yachting experience and atmosphere with unsurpassed service from the professional crew.
Celebration Cruises offers a 4 season, climate controlled interior cabin for your cruising comfort. We cruise daily, rain or shine; weather does not prevent you from having a fantastic cruise experience. With easy access parking, and a central location at the Grand Glaize bridge on Highway 54.
We offer an exceptional venue for all your events; from social to corporate functions. Celebration Cruises provides the environment, and crew that will surely set your event apart from others. Making it an occasion that will be remembered.
Celebration Cruises is ADA accessible.
Celebration Cruises Service Dog Guidelines:
All passengers with service or support animals will have to submit proof of health and vaccinations at least 48 hours prior to the scheduled cruise.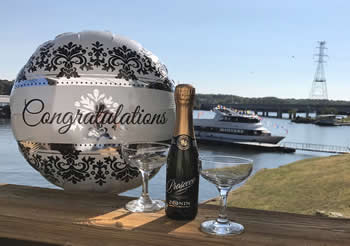 Birthday & Anniversary Packages Now Available!

Celebrate your special day with one of our birthday or anniversary packages. Choose from
Anniversary Package: Includes a bottle of Sparkling White Wine & Congratulations Mylar Balloon
$15.00
Birthday Package: Happy Birthday Cupcake & Mylar Balloon
$15.00
Purchase either package when you book your cruise tickets or by contacting our crew at 573-480-3212 or by email to info@cruiselakeoftheozarks.com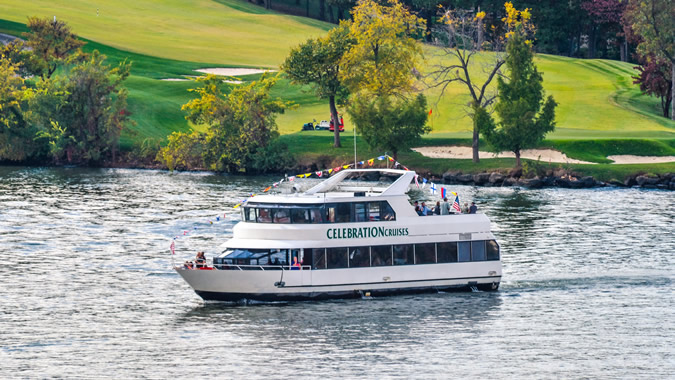 Season Passes Now Available

This package includes the attendance to unlimited tours of the following types: Lunchtime Narrated Lake Tour, Evening Lake Cruise, Candle Light Dinner Cruise, Narrated Lake Tour. Only one person per booking is allowed. The visits must be made within one year from the date of purchase of the package.
Indiviual Season Passes $100.00 per person.
Not good on special cruises.
Click on the button below and create an account to purchase a season pass for 2018.
Upcoming Special Cruise Events
Shootout Poker Run Cruise – August 24, 2018
Shootout Poker Run 2018. Join us as we cruise the route that the speed boats take, while each guest can play hands of poker.
Complimentary continental breakfast, Bloody Mary, and Mimosas.
$40 per person
Board 8:30 AM
Depart 9:00 AM
Return at 11:00 AM
Journey to the Shootout Cruise – August 24, 2018
Join Celebration Cruises as we begin the journey to Shootout 2018. Leaving our Bagnell Dam dock at 6:00 PM heading over to the Grand Glaize. You will board from Bagnell Dam while cruising the Lake of The Ozarks. Enjoying entertainment, an Ozark sunset, dancing, and Shootout drink specials!! You may also purchase dinner.
Board 5:30 PM
Depart 6:00 PM
Arrive Around 8:30 PM
$35.00 per person Cruise only
$52.00 per person, cruise and dinner
**Ground transportation back to Bagnell Dam is included in your ticket price**
Labor Day Fireworks Cruise – September 2, 2018
Sunday, September 2nd, 2018. Come aboard Celebration Cruises, departing from our Grand Glaize Bridge location.
$35.00 per person, includes cruise and firework display.
Full service bar and snacks available for purchase.
Board 7:00 PM
Depart 7:30 PM
Return at 10:00 PM